Carthamus Yellow SUPPLIERS IN MUMBAI, INDIA


In traditional medicines, Carthamus species (e.g. Carthamus tinctorius, Carthamus lanatus, Carthamus arthamus, Carthamus oxycantha) may have been used for treating asthma, bronchitis, abdominal colic, jaundice, rheumatism and gynecological, heart and inflammation diseases.
In Chinese medicine, Carthamus tinctorius is also known as "Hong Hua", whose flowers and other parts may have been used for treating blood stasis, and abnormal menstruation via promoting blood circulation. Carthamus lanatus is another herb used as a sedative and anti-cancer agents. Carthamus oxycantha has also used for treating ulcers and itches.
Carthamus Yellow is an uterine stimulant, abortificant, vasodilator for coronary arteries, hypotensive, anti-inflammatory, reduces platelet aggregation, lowers blood lipids, analgesic, anti-spasmodic, emmenagogue, diuretic, diaphoretic, immune stimulant, anti-bacterial, anti-fungal, interferon inducent. Used to improve cerebral and coronary circulation. Breaks up Blood Stagnation, especially for the lower abdomen (used to treat enlargement of the liver and spleen) Used for traumatic injuries with Stagnant Blood and pain.
May cause weight loss when given over an extended period of time. Otherwise, relatively safe for medium to long term use. Contraindicated in pregnancy and menorrhagia.
Carthamus tinctorius has been used as food colorants and dyes in Asian countries, due to its flower's yellow and red colors. It is used to color tea, noodles, candy, biscuits, tinned food and wines.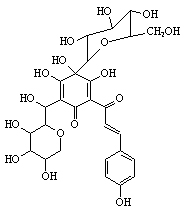 Safflomin A, M. Wt: 612.5 Formula C₂₇H₃₂O₁₆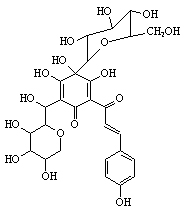 Safflomin B,M. Wt 1062 Formula: C₄₈H₅₄O₂₇
Description
Flavonoid for food and medicine.
Color/Nature
Synonyms
Safflower yellow, CI Natural Yellow 5
Biomax Products
Content of colouring matter calculated as safflomin A ≥ 20 % w/w
By Spectrophotometry